Five year old Mary came running into her mother's bedroom one lovely June morning to announce with utter delight,"Mother I think Jesus is calling me home."
It was odd timing, Judy Darby recalls. Her oldest ,12 year old Rebecca,had just finished telling her that she had dreamed of being in heaven with her grandfather,sisters and younger brother.
"Oh ,Mother,it was so beautiful and we were so happy" she said, her face glowing with the memory.
Talk of heaven wasn't unusual in the Darby family. But,Mrs. Darby remembers that she did direct a few comments to God about the children's words.
"I said,'Father, why are my children all dreaming of heaven and talking of heaven?'" she says,"I said to Mary,'I'm Supposed to go there first.'"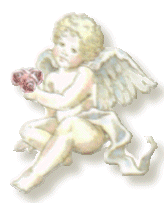 Six days later on a clear July morning, a sudden violent rainstorm passed over a stretch of I-35 south of Dallas. A Buick Park Avenue with an air bag and 4 new tires was traveling north. It hydroplaned, crossed the median and struck a southbound vehicle, injuring the driver. Mrs. Darby's 71 year old father was driving the Buick, taking Rebecca, Mary, 8 year old sister Sarah and 3 year old brother John home after the 4th of July holiday.
All 5 family members died,or, as Mrs. Darby often puts it, they "went home to be with the lord."
That phrase is often used as a euphemism to warm the cold truth. But to the Darbys, it is a statement of fact, a confident assurance that has kept their family strong through an unimaginable trial.
What others might see as coincidence or merely the kindness of tender-hearted humans, the Darbys see as the hand of God. And it sustains them.
That the entire family was not together July 5, 1995 is the stuff of modern life. Gary Darby had sacrificed part of the family vacation to return home to Dallas because of work. Mrs. Darby and Gary Scott left her parents Austin-area ranch because his baseball team made the playoffs.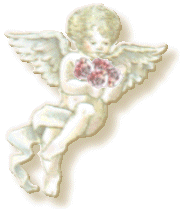 Mr. and Mrs. Darby have never blamed each other for their children's deaths. The accident that took them was no accident,she says
"Nothing happens that God does not allow. Our days are numbered from the womb" says Mrs.Darby.
Asked whether she ever blamed God for all this pain,she leans close. She answers slowly. Her voice is almost a whisper. " He hasn't asked anything of me that he hasn't done himself," she says "Our children are in the best place. God sent his son to this terrible place to die for my sins."
The Darbys say their peace rests on a relationship with "the living God" a relationship that for them, is a reality as strong and loving as the one they share.
"Sometimes I've laid my head in his lap and cried," Mrs. Darby says to illustrate how close and real God is to her."He's stoked my hair and comforted me."
As a child she daydreamed about Bible stories and the heroics she would have performed for God if she had only been alive during those times. " I used to say,'If I had been in the same generation that came out of Egypt, I would never have doubted you. I would have never been crying in the desert for water. I would have known you would have provided,'"she says.
Then she adds with no discernable bitterness."This is my desert."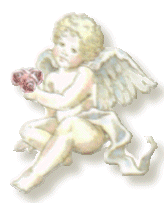 The night of the accident,as Gary and Judy stood in the hospital praying over 3 year old John, they knew the doctors were helpless.
"I knew what God could do. I knew God could bring him back. I knew he could do it. He could do it,and that's what we were asking him."
But God was silent
About dawn they were asked to make a decision. Only machines were beating the heart of their son's body.
"Lord," she prayed, the name a soft wail of loss. " I can't do this unless you tell me that your answer is no because I can wait here forever."
Her prayer had hardly ended,she says, when all the bells on the machines began to clamor as though every system was going down. The nurses came running. And she knew it was time to let John go.
So where's the blessing in that?Where was the all powerful God who loved her?
Right there, she says.
A night or so before the accident, she had phoned from Dallas and John had begged her to rock him. She had promised,"I will rock you when you get home."
And she did. She picked him up with tubes and monitors attached.
" Thank You,Lord, that he made it from the scene long enough for me to rock him. And I rocked that little body there and kissed those little hands that I loved snuggling with." Her voice breaks as the retelling brings a new wash of grief.
"He's gone. He's gone."
In The months afterward, the family tried to reestablish their lives in as normal a way as possible, but each time they do something for the first time it hurts.
After the funeral, one question most tormented Mrs. Darby. Did shy, sweet Sarah know that God was calling her? God reached out to Rebecca. He spoke to Mary. He made sure a mother's promise was fulfilled before John died.
But did Sarah know where she was going?"My heart wanted to know," Mrs. Darby says, and she prayed,"Lord,when she was ebbing between life and death,Lord, did she know she was going home to be with you?"
Week after week, there was no answer. And still she prayed.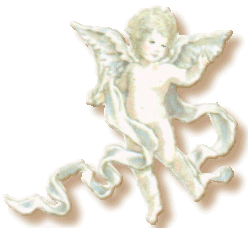 Then on Nov. 5,1995, exactly four months after the accident,Gary Darby pulled back the hearth screen to make a fire. He had been putting it off because the memory of how his children once gathered around as he made the first fire of the season was so painful.
In the clean fireplace were scraps of paper. On them was Sarah's handwriting.
"What are these?" the Darbys asked each other.
"Sarah wasn't a messy child," Mrs. Darby said.
But Gary Scott knew."Mom" he said. "Mary Poppins." His sister had been playing Mary Poppins a few days before their last vacation.
In a scene from that favorite movie, the children's request for a nanny is torn up and thrown into the fire. It floats up to Mary Poppins who is sitting on a cloud.
Mrs. Darby remembered her quiet daughter lounging in the back yard. Many times when her mother would call her in, the child would say, "I'm talking with God."
God had spoken to Sarah, Mrs. Darby says. And her reply was on the paper put in the fireplace for heavenly delivery.
Their hands were shaking as they pieced together the note covered with the second-grader's big printing. The note read,"I will be there with you ,Lord. I will praise you,Lord. I will lift my words to you. I will love you,Lord. I will praise you ,Lord, and I will never leave you,Lord. I will praise you ,Lord."
" It's future tense," said Mrs. Darby. " She Knew."


To All Parents
A Poem Written By : Edgar A. Guest
"I'll lend you for a little time a child of Mine,"He said,
"For you to love the while he lives and mourn for when he's dead,
It may be six or seven years or twenty-two or three,
But will you til I call him back, take care of him for me?
He'll bring his charms to gladden you,and shall his stay be brief
You'll have his lovely memories as solace for your grief.
~~~~~~~~~~~
I cannot promise he will stay, since all from Earth return,
But there are lessons taught down there I want this child to learn,
I've looked the wide world over in my search for teachers true
And from the throngs that crowd life's lanes I have selected you.
Now will you give him all your love,nor think the labor vain,
Nor hate me when I come to call to take him back again?
~~~~~~~~~~~
I fancied that I heard them say,"Dear Lord, Thy will be done."
For all the joy Thy child shall bring, the risk of grief we'll run.
We'll shelter him with tenderness, we'll love him while we may
And for the happiness we've known forever grateful stay;
But shall the angels call for him much sooner than we planned,
We'll brave the bitter grief that comes and try to understand."
~~~~~~~~~~~
(From "All In a Lifetime"---Copyright, 1938)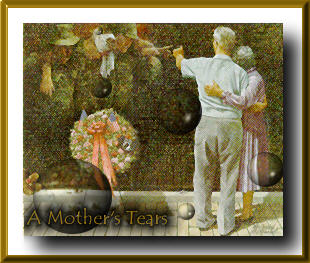 Visits: