On this page are some of the places I found while redoing my pages. I am so grateful to these people who work so hard and put their work on the net for us to use. I want to give a special thanks to Sonya at Marvelicious who let me use some things from her personal page. Thank you, it meant a lot to me. The poems were something I had searched for for a long time. So please go see these wonderful places, even if you are not doing a page you will enjoy them.

If you love oldies music you must see this site. There is a link to download a player on the site and it is very easy. These are full length actual songs....not midis. Great Place.
Click Below to Visit The Wanderers
50's-60's Real Audio Oldies Music Site!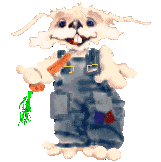 You MUST see this site. I know you don't know it, but you must see this site. Click on the BUNNY to take you there. But please visit the rest of my page first because you will want to see everything on this site and it will take you awhile. *S*